Brake Repair and Service in Frankfort, IL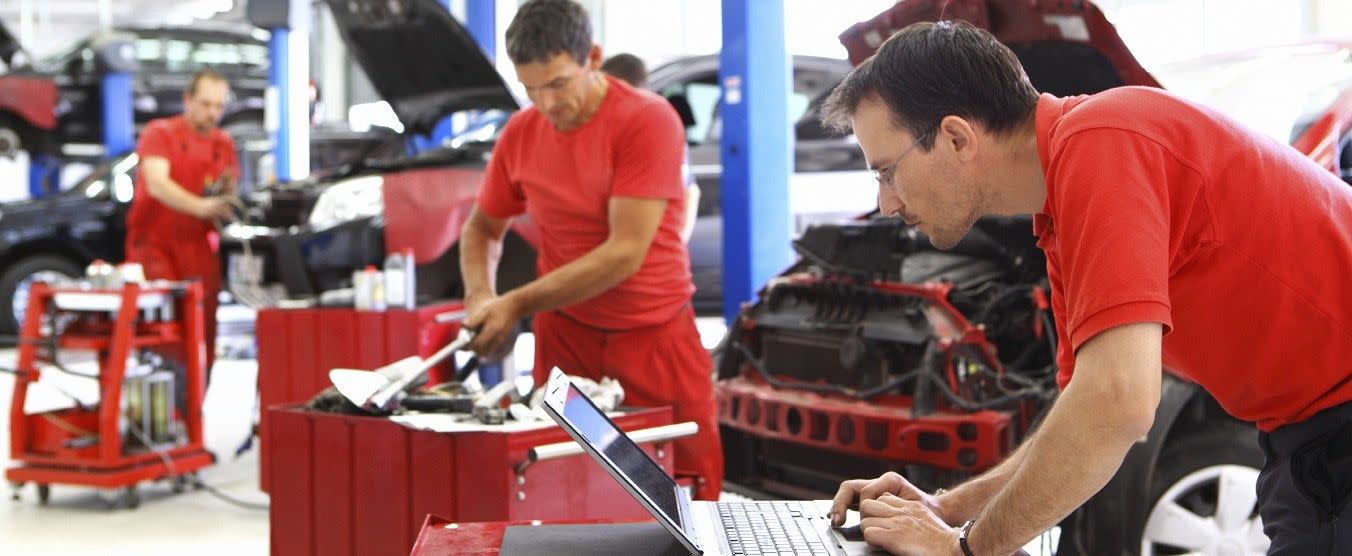 One thing you never want to do is put yourself in jeopardy by ignoring faulty brakes. When you hear strange sounds emitting from your engine, that's a good indication that something is off and should be addressed without a moment of hesitation. Luckily, the knowledgeable technicians here at Silver Auto Sales are trained to handle this situation, so you can get back on the road worry free. If you feel your brakes need repair, contact us at 815-806-1390 and schedule an appointment today.
When Should You Get Your Brakes Repaired?
There are a couple of common signs that you should look out for that will let you know now is the time to get your brakes looked at. If you hear a grinding or scraping sound whenever you slow down, need to use more force than normal to bring yourself to a complete stop, or the pedal goes all the way down to the floor, you'll want to stop by our Service Department as soon as possible and have your brakes scrutinized. These issues might initially seem minor, but neglecting them could result in total brake failure and put you and your passengers at risk.
Timeline
There are a lot of factors that play into how often you should get your brakes checked, but a safe rule of thumb is around every 12,000 miles. The reason for this is that our mechanics can discover any underlying issues before they balloon out into larger and more expensive problems. Brakes might seem like simple parts, but they are actually complex and contain lots of moving parts that need to be examined. If you require a new set of pads, we make it easy and convenient to get the specific set of brakes your vehicle needs.
Our Service
When you swing by our dealership to have your brakes repaired, let us know if you think anything else needs to be services. That way we can handle everything all at once and you won't have to swing by again more than you'd like. We do tire rotations, oil changes, battery tests, air filter replacements, and much more. With our expert mechanics, no task is too big or too small. Check our current Service Specials if you're looking to save yourself some money when you come in!
Do you need brake repair and service in Frankfort, IL? Then come on into Silver Auto Sales and we'll make it happen! You can find us located at 198 Industry Avenue in Frankfort, IL.
Service Hours
(815) 806-1390
| | |
| --- | --- |
| Monday | 8:00 am - 5:00 pm |
| Tuesday | 8:00 am - 5:00 pm |
| Wednesday | 8:00 am - 5:00 pm |
| Thursday | 8:00 am - 5:00 pm |
| Friday | 8:00 am - 5:00 pm |
| Saturday | Closed |
| Sunday | Closed |
Testimonials
Traveling Customer Testimonial
Jackson, Wyoming
11-7-2018
Old School Trust and New School Sales!
Chicago
10-20-2018
Repeat Customer Testimonial
Carol Stream
9-7-2018
Very Honest and Great Overall Experience
Orland Hills
6-16-2018
Traveling Customer Testimonial
South Carolina
5-8-2018
Great Experience! Very Professional! Definitely Recommend!
Homewood
11-11-2017
Found My Only Dealer to Buy From!
Woodridge
12-7-2016
Bought Site Unseen From Utah
Utah
8-1-2016
Customer Testimonial
Oak Forest, Il on
1-8-2015
Customer Testimonial
Tinley Park, IL on
6-19-2015
Customer Testimonial
Marseilles, Il on
4-16-2015
Customer Testimonial
Frankfort, IL
7-17-2015
Customer Testimonial
(dealerrater reviewer) on
5-12-2014
Customer Testimonial
(dealerrater reviewer) on
9-6-2014
Read More